At Chaikin Analytics, we've focused on the market's "bullish" setup this year…
That might seem foolhardy to some folks. After all, we can all see the storm clouds appearing on the horizon…
The Federal Reserve has raised interest rates at a historic pace.
As a result, home-mortgage rates are near their highest levels since the early 2000s. Business loans are exceedingly expensive, too.
And serious layoffs are happening. In fact, just within the past week, news broke that technology titan Cisco Systems (CSCO) is laying off hundreds of workers in the San Francisco area.
Huge margins and cash flows usually protect the tech sector from employment pain. But now, even tech workers are wondering if they'll be part of the next round of cuts.
With everything going on, many investors are worried about what will come next. They're being cautious. And to them, our "bullish" outlook likely feels out of touch.
Look, we can admit that storm clouds are developing on the horizon.
But today, let's use the Power Gauge to help us unpack this idea. As you'll see, rather than worrying about the clouds, we should focus on the sunshine peeking through them…
Folks, I'd like to remind you that tech stocks have absolutely soared this year…
We track the sector with the Technology Select Sector SPDR Fund (XLK). The exchange-traded fund ("ETF") is up roughly 35% since the start of 2023.
Even better for us at Chaikin Analytics, the Power Gauge called out this still-developing opportunity in early February. Since the system turned "bullish" on XLK back then, the ETF is up around 20%.
Take a look…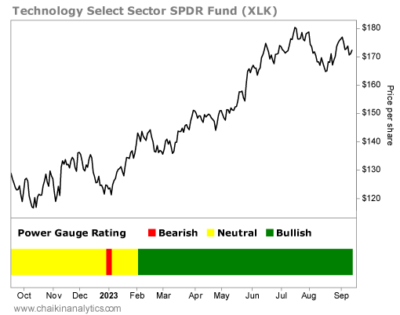 But here's the thing…
If you frame it a certain way, 2023 has shaped up to be a terrible year. Investors who've spent the year pointing at storm clouds weren't exactly wrong…
The market has faced significant hurdles. And that's still the case.
It all starts with the Fed…
During XLK's massive climb this year, the central bank raised interest rates four times. Again, that's making everything from home mortgages to business loans more expensive.
We've also seen armed conflict… commodities price increases… an auto-workers strike… employees expecting more than ever before… and regulatory interference like the European Union forcing Apple (AAPL) to change the port connector on all iPhone models.
Despite all that, the market has soared…
The tech sector has produced multiple years' worth of gains in a matter of months. And the broader S&P 500 Index has done pretty darn well, too. It's up around 16% this year. (Though it's worth noting that mega-cap tech stocks accounted for a lot of those gains.)
So where does that leave us?
Well folks, there's no getting around it…
Another recession will occur at some point.
But we don't want to sit inside the house, just waiting for the storm to arrive.
The reality is simple…
The markets have experienced a massive year. And it all happened with the recessionary storm clouds looming ominously overhead.
That leaves investors with a clear choice…
You can either participate in the incredible gains or go inside early with fears of getting wet.
With the Power Gauge at my side, I know which choice I'm making…
I'll stay invested as long as possible. And when the market turns south, I'll lean on the Power Gauge for protection and guidance. It's a proven system for navigating the market.
Will I time the exact top? Of course not. That's virtually impossible.
But at the same time, I won't make the mistake of sitting in cash and waiting for the perfect moment to invest.
Many folks did that this year. And the market has sprinted by them.
Good investing,
Vic Lederman