Editor's note: Regular readers know that Chaikin Analytics founder Marc Chaikin expects stocks to rally in the coming weeks and months…
Marc shared his latest thoughts on the market last Thursday. As he wrote…
The "rolling bull market" is still alive and well. We survived the recent correction. And when we put everything together, I'm confident that stocks will trade higher into the end of 2023.
Today, we'll look at that idea through another lens…
Brett Eversole is our friend and an editor at our corporate affiliate Stansberry Research. Last week, he investigated the market's recent downturn in his DailyWealth e-letter. And based on history, he found that stocks could perform extremely well over the next year…
Investors were starting to feel good again this summer…
Markets had been moving higher for months. The "Magnificent Seven" tech stocks were defying all doubters. And lots of other stocks were joining in on the fun.
But just as folks were ready to get bullish, everything reversed.
The slowdown started in August. And it accelerated over the past two months…
Stocks fell 7% in September and October. It was the worst decline we've seen for those months since 2008.
But according to history, the pain won't continue. Instead, we'll likely see double-digit gains over the next year.
Let me explain…
The past couple of months have been tough on investors.
Folks were already waiting for a major economic downturn. Then, as the pullback in stocks dragged on, people began to worry that a new bear market was around the corner.
But this kind of pain is typical this time of year…
According to Ned Davis Research, stocks tend to hit a midyear peak in early September. Then they tend to bottom in late October, with typical losses of 8%.
That's like what we saw this year. The S&P 500 Index dropped 10% from its peak in July to its recent low. And 7% of that decline happened in September and October. Take a look…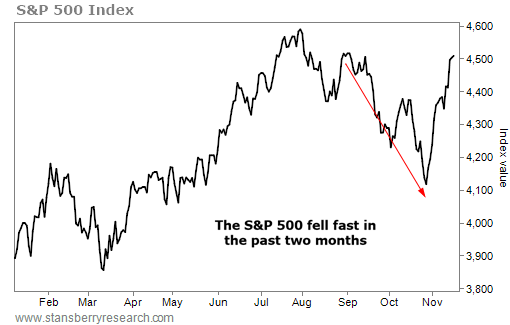 As I mentioned, that's the worst September and October we've seen in 15 years.
But this likely isn't the start of another 2022-style bear market. Based on history, we should view this as an opportunity.
That's because similar declines have consistently led to profits… for decades.
Specifically, I looked at the September-to-October losses since 1950. Declines of 6% or more have happened nine times over that period. And it turns out, those were great times to put money to work. Take a look at the returns that followed…
The overall stock market has been a wealth-compounding machine for the past seven decades. But if you buy at the right time, you can do even better than the typical 7.8% annual gains.
Similar setups led to 4.5% gains in three months and 7.7% gains in six months. They've also led to 14.7% gains over the next year. That's roughly double the typical buy-and-hold return for stocks.
What's more, stocks were higher a year later in eight of the nine previous instances. That's a fantastic 89% win rate. Plus, the last time we saw a similar setup in 2020, stocks jumped 41% over the next year.
So yes, I get that the recent slide in stocks might worry you.
But history shows worrying is the wrong move today. Instead, stocks are gearing up for big gains over the next year.
Good investing,
Brett Eversole