Folks, one of the market's most hated subsectors is soaring right now…
It's up around 16% in the past month alone.
So far this year, it has climbed 37%. That's double the S&P 500 Index's 18% gain.
And it's doing that while facing one of the market's most aggressively negative narratives…
The mainstream media is leading investors to believe that no one can afford this subsector's product. And for months, we've heard that this industry is due for a major crash.
Now, if you haven't guessed yet… I'm talking about U.S. homebuilders.
Whether you realize it or not, this subsector has walloped the S&P 500 so far this year. And as I'll show you today, its outlook is now even better than before…
In the Power Gauge, we track the homebuilding subsector with the SPDR S&P Homebuilders Fund (XHB). This exchange-traded fund holds roughly 35 companies in this subsector.
And as I said, XHB is soaring this year. It's crushing the S&P 500. Take a look…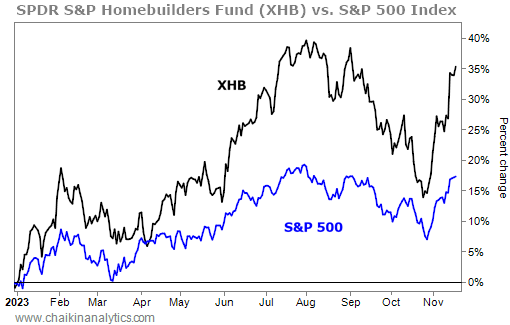 On the chart, it's clear…
We're not talking about a one-day spike that has pushed XHB into high-performance territory. And if you're a regular Chaikin PowerFeed reader, you likely already know why…
Put simply, it's a supply and demand problem.
America's housing market is still too tight. And 15 years later, we're still suffering from the effects of the homebuilding slowdown that occurred after the 2008 crisis in this space.
But the mainstream media latched onto a different, more negative narrative in recent years. And before long, darn near everyone thought it was the end of the housing market.
You see, the median U.S. home price has soared from $327,000 in 2019 to $431,000 today. That's an absurd 32% gain in a part of the economy that's typically viewed as slow-moving.
To make matters worse for homebuyers, interest rates hit multidecade highs.
Together, these two factors mean monthly payments on new mortgages roughly doubled in a short span. So it makes sense that many folks thought it would cook the housing industry.
But as we've all seen with XHB so far this year… it hasn't.
Here's the thing…
Life goes on, no matter the economic conditions. That means families still need housing – even if it's more expensive than ever before.
That trend is playing out today. And homebuilders are rushing to fill the demand.
They'll eventually close the gap. But the market tells us they still have a long way to go.
And now, with inflation cooling, interest rates will likely decline from here.
That might sound like wishful thinking. But even a small drop in rates can make a big difference over the course of a 30-year loan.
That's a promising sign for homebuilders.
After all, they're still trying to fill demand. Their product just got a little more affordable. And it didn't cost them anything.
So if you're not already watching this subsector closely, I recommend checking it out today.
Good investing,
Vic Lederman